EGGPLANT PARMESAN WITH FRESH CHEVRE AND BASIL:
While I rarely eat cheese, my own fresh chevre (goat's cheese) is absolutely delectible in this recipe. It's pretty enough for festive dinners. It calls for a fig/balsamic sauce which you can purchase from Bosa Fine Foods in Vancouver, or substitute a balsamic reduction of your choice.
Ingredients:
2 large eggplants
300 g chevre
2 cups tomato sauce
12 leaves basil
grated parmesan cheese (1/4 cup)
Basalmic Fig Sauce (optiona)
DIRECTIONS: Preheat oven to broil eggplant. Wash and cut eggplant lengthwise in slabs 3/4" thick. (optional: brush with olive oil). Place under broiler (set low, not high) and broil for 10-12 minutes each side until golden brown (or darker for a smoky flavour, but not burnt ;o). Remove from oven and spread out on a baking sheet. Lightly sprinkle with salt. Cut chevre into rounds 1/4" thick and spread out over the eggplant. Next pour the tomato sauce over the chevre (I pre-made a simple sauce with one sauteed onion and a can of crushed tomatoes, but you can also use prepared tomato or pasta sauce). Wash, drain and spread basil leaves over the eggplant. Finally, sprinkle with parmesan cheese. Optional: drizzle with Basalmic Fig syrup (incredible stuff from Bosa Fine Foods!) Bake at 350 degrees F for about a half hour. Photos show the eggplant ready to go into the oven, and the final version on the plate. You'll see that we served it with baked garlic!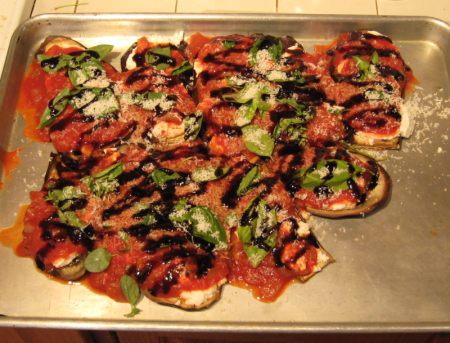 Eggplant Parmesan
Ready to go in the oven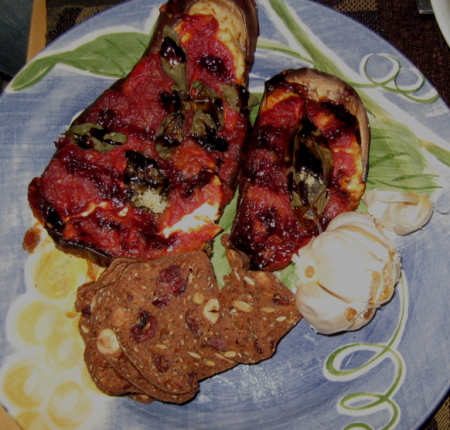 Eggplant Parmesan served with Roasted Garlic & Raincoast Crisps