CURRIED CAULIFLOWER PATTIES:
This is my sister Carole's invention, which I've tried to duplicate because they're so incredibly yummy. They're great served as a starter to an Indian meal, with coconut chutney, or as part of the main meal. This recipe made 2 dozen patties so if that's too much for your family, form half and freeze them on a cookie sheet for a quick meal another day, or just halve the recipe.
Ingredients:
2 heads organic cauliflower
Oil — 2 Tbsp peanut or coconut oil
2 large onions — chopped
4 celery stalks; chopped
Garlic — 6 large cloves
1 Tbsp. grated fresh ginger
Ground Cumin — 2 Tbsp.
Curry Powder — 2 Tbsp.
Turmeric Powder — 2 Tbsp.
Garam Masala — 2 tsp
Ground Coriander — 2 tsp
2 red bell peppers, diced
Salt — to taste (at least 2 tsp. and probably more)
1 can coconut milk
2 cups gram flour (chick pea flour)
Oil — 2 Tbsp peanut or coconut oil for frying patties
Chopped Cilantro
Method:
Prepare cauliflower by washing and chopping into small florets, steam until tender in a large pot. Allow to cool. Meanwhile, heat a cast iron pan on medium heat. Add the oil and allow it to heat up. Add the chopped onions and celery; cook until beginning to soften. Add in the garlic, ginger, and spices and continue to cook over low heat, stirring well so the spices don't stick (the heat will bring out their flavour). Add the diced peppers after a few minutes, and continue to fry and stir for 4-5 more minutes. Add the can of coconut milk and stir so all the flavours become evenly blended. Drain the cauliflower and return to the large pot; we'll use this as our mixing bowl. Using a potato masher, mash the cauliflower until the pieces are pea-sized. Next add the gram/chick pea flour (you can find this in any Indian or Asian supermarket; wheat flour will not make a very good substitute). Pour the onion/spices mixture into the bowl and use a rubber scraper to extract every last drip of flavourful sauce. Fold all ingredients together until well blended. Add salt and pepper to taste (this will absorb a lot of salt).
Heat the (now-cleaned) cast iron pan on low to medium heat. Add the oil and allow it to heat up. Shape the mixture into patties and fry at least 5-7 minutes per side. You don't want them to cook too quickly, or they will brown before the centres are cooked through. Serve piping hot with cilantro garnish, also coconut or mango chutney or other Indian condiments.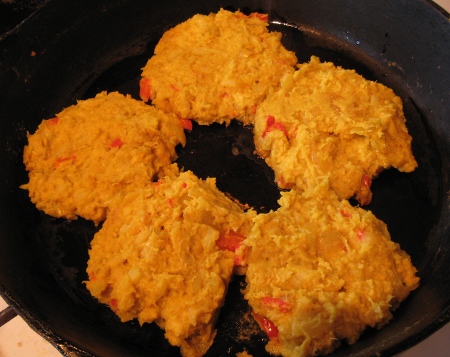 patties frying in the cast iron pan